Are One Length Irons for you
I often get asked who are one length golf clubs for. The answer is anyone that is trying to better their game.
Over the past few years golfers of all levels have been investigating one length irons to improve their own golf game. Whether you are a beginner, high handicap or even single digit, single length may very well be the answer for you.
What is Single Length?
The single-length philosophy is that golfers can concentrate on just one swing, not a different swing for each iron or wedge.
Single length has made the game of golf much easier.
In a traditional golf set all the clubs are different lengths and require a different set up and swing for each club.
How it works!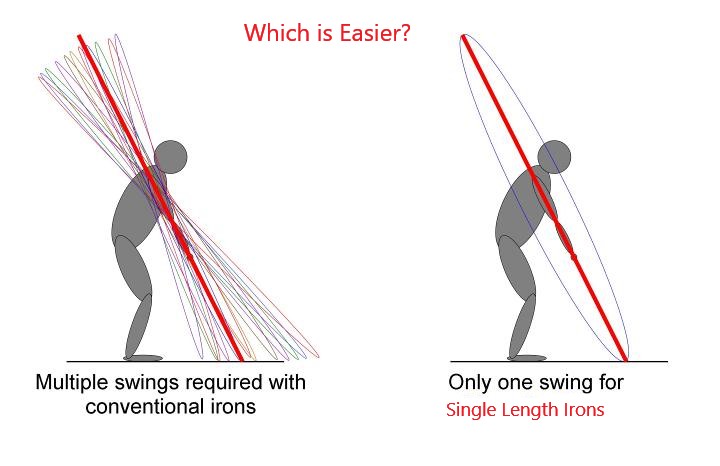 As you can see, the left image above shows the different swing path for each club. Since each club in a traditional set is different, your setup is also different and even your ball position is different. This can be confusing to most and hard to remember all those swing thoughts.
The image on the right depicts single length clubs. All of your irons are the same length making it much easier to remember your one set up. A simple pre-shot routine will ensure you are in the right position all the time.
Here's what to expect with Single Length Golf Clubs!
Identical feel from iron to iron
Identical function from iron to iron enhancing length, distance and dispersion control
Identical setup from iron to iron.
The same swing from iron to iron
Identical ball position from iron to iron
The Same stance from iron to iron
More on center hits
Fewer fat shots
Fewer thin shots
Improved feel and play-ability
Final result – More Consistency and Improved scoring
Most important – More fun and easier golf!
CHECK THEM OUT!

The Dover Coast,
Port Dover, ON,
N0A1N3
416 726 4285
Related Images:
Tags: custom golf clubs, one length irons, one length irons on sale, Single Length irons in canada, single length irons on sale