Description
Now On Sale
Krank Formula XX Extreme 9 degree Right Hand Driver Head
The Krank Formula X Extreme is the foundation of the Krank Formula 11. If you are looking for a great deal on a Krank Golf Driver, now is the time. These are limited in quantity so order yours today.
Micro milling of the face to maximize spring effect on every driver's head.
Maximum metal hardening for the fastest spring back in any driver ever made, including previous Krank Golf drivers.
Maximum Energy Transfer Technology
New measuring process for exact lofting, face angle and lie angle specs
Exact mechanized welding process to minimize weight and maximize long-term durability
New Extreme Paint scheme.
A little more of what you should know about Krank Golf Drivers:
Every golf driver we make is 100 percent Forged Titanium.
Every golf driver we make is handmade, not poured into casting molds in some massive production line.
Every golf driver we make is deep-cupped face beta titanium and uniquely milled to extremely tight specs. We do not use weaker cast bodies with insert face pieces. They simply cannot generate the speed and durability our faces do.
Every golf driver we make includes our exclusive Maximum Energy Transfer (MET) Technology. MET simply means our golf drivers store and releases energy back to the ball better than any golf driver in the world. Golf driver performance is far more than just how the face performs. The rigidity of the body of the driver plays a significant role is ball speed, spin control, directional control, and energy storage.
Every golf driver we make uses the highest-grade titanium available and is hardened well beyond any other golf driver in the world. How we do this is a closely held secret and is one of the reasons our drivers perform the way they do.
For more information or to have us assemble for you ASK Here!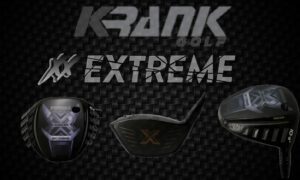 Krank Formula Double X Extreme HIGH-CORE Driver
"ADD 20-40 YARDS TO YOUR DRIVES"
DRIVER INFORMATION
The Formula DOUBLE X EXTREME HIGH-COR Golf driver is 100% handmade, cupped faced and forged. No cast drivers here. Enjoy the next evolution of Krank speed and accuracy. At Krank Golf we will not sacrifice performance for style. The great news is that we didn't have to. The Formula DOUBLE X EXTREME Driver encompasses the outrageous ball speeds and stability everyone is so used to with a new look and style everyone wants.
The KRANK GOLF FORMULA DOUBLE X EXTREME HIGH-COR (USGA NON-CONFORMING) DRIVER encompasses everything we have learned over the past 14 years about driver performance. From triple plasma welding, the latest hardened Beta Titanium, to added sole plate louver placement for maximum energy transfer back to the golf ball. We push every possible advantage to gain performance. We do not build cast drivers. We only build 100% Cupped Faced Forged Drivers. There is no comparison in performance or durability.
Enjoy the next Krank revolution and hit the ball FASTER – STRAIGHTER – LONGER with the NEW Formula DOUBLE X EXTREME HIGH-COR Driver by Krank Golf.
KRANK IT UP!!!