Description
Pinhawk Vertex Custom Irons 3, 4 and 5 irons
The single-length philosophy is that golfers can concentrate on just one swing, not a different swing for each iron or wedge. Although we have been very successful with our Pinhawk SL irons, many have asked for longer long irons and shorter short irons.
Ta Da – Ask and you shall receive –
Introducing the Pinhawk Vertex Dual Length Irons! A vertex in math is defined as "a point where two lines meet", and that is the perfect name to describe these irons. They combine the best of both worlds for the ultimate in consistency: Not completely single length, and not traditional length. Instead, just two different lengths: the 3, 4 and 5 irons one length, and the 6, 7, 8, 9, PW, AW, SW another.
This configuration results in no distance loss in the long irons and the full benefits of single length irons in the "short" set (6-SW).
2 different lengths, and just 2 swing planes, vs many planes in a traditional set.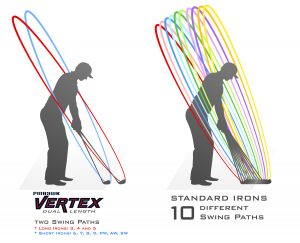 The 3 and 6 iron use a new iron technology. First, they have an ultra thin, high strength cup face to help increase ball speed and maximize distance. The weight saved by the thinner face is positioned to allow for an optimal launch angle. This is a hollow bodied design that provides unparalleled forgiveness and distance. Hence, it costs more.
The technology used in the lower lofted club in each of the two Vertex lengths (the 3 iron being the lowest lofted club of the long irons, and the 6 iron being the lowest lofted club of the short irons) is necessary for correct distance gapping across the entire set.